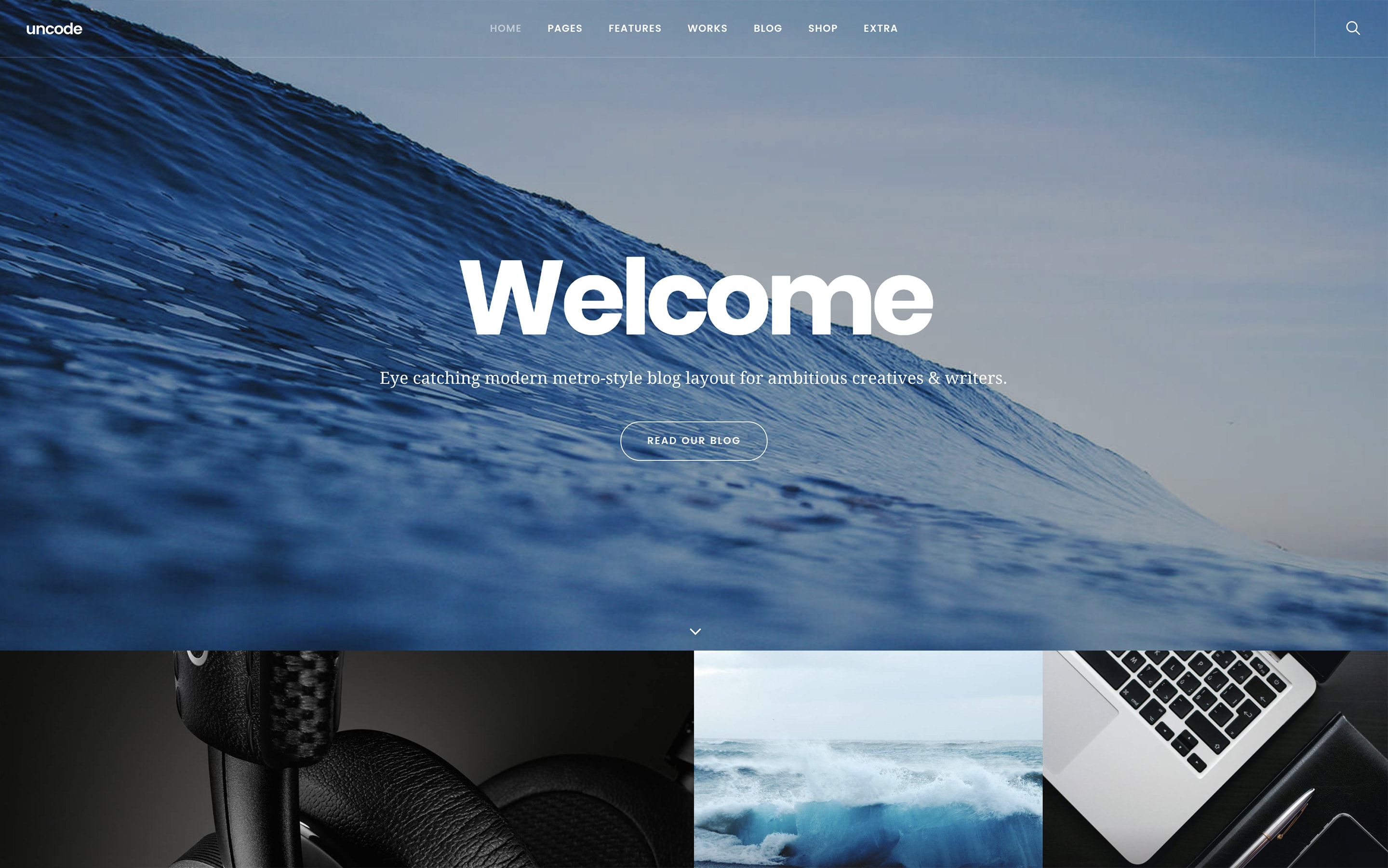 In Uncode you can work with 4 different header types. Default and Content Block are native to Uncode and are fully integrated with the Theme Options. If you prefer to work with an external plugin, Slider Revolution and LayerSlider are included in the Uncode package.
You don't need extra plugins to create a stunning header with Uncode.
Headers Types
Theme Options
You can set your header in Theme Options if you need to create a matrix for your header layout. This is generally used in blog posts to create a layout that will be applied to all your blog posts. As an example, all your blog posts will have the same header layout, but with different images (pulled by the post itself). To set a header by the Theme Options, go to the post type you want to work with (ex: Post or Portfolio) and open the Header panel. This option is generally used with the Default Header.
Page Options
You can set your header in Page Options if you need to create a unique header for selective pages, portfolios, blog posts or products pages. This is generally used to create a header for the home page or for special or selected pages of your website.
To set a header by the Page Options go in the Page Options (at the bottom of each page or post), go to tab Header, and set the header by the options.
Modify a page header
Most of Uncode demo headers are made with the native Content Block module and are connected to a single page by the Page Options → Header tab, you find this options panel at the bottom of every page, post, portfolio or product page, screenshot.
Content Block headers
Headers are external to pages. They can be linked to a single page or can be reused and shared among multiple pages as default layout for the header. With the Content Block you can create headers the same way you work with Uncode WPBakery Page Builder. You can check those reference:
Video Tutorial: in this video is we will explain the unique concept behind the Content Block element of Uncode Theme and overview the applicabilities.