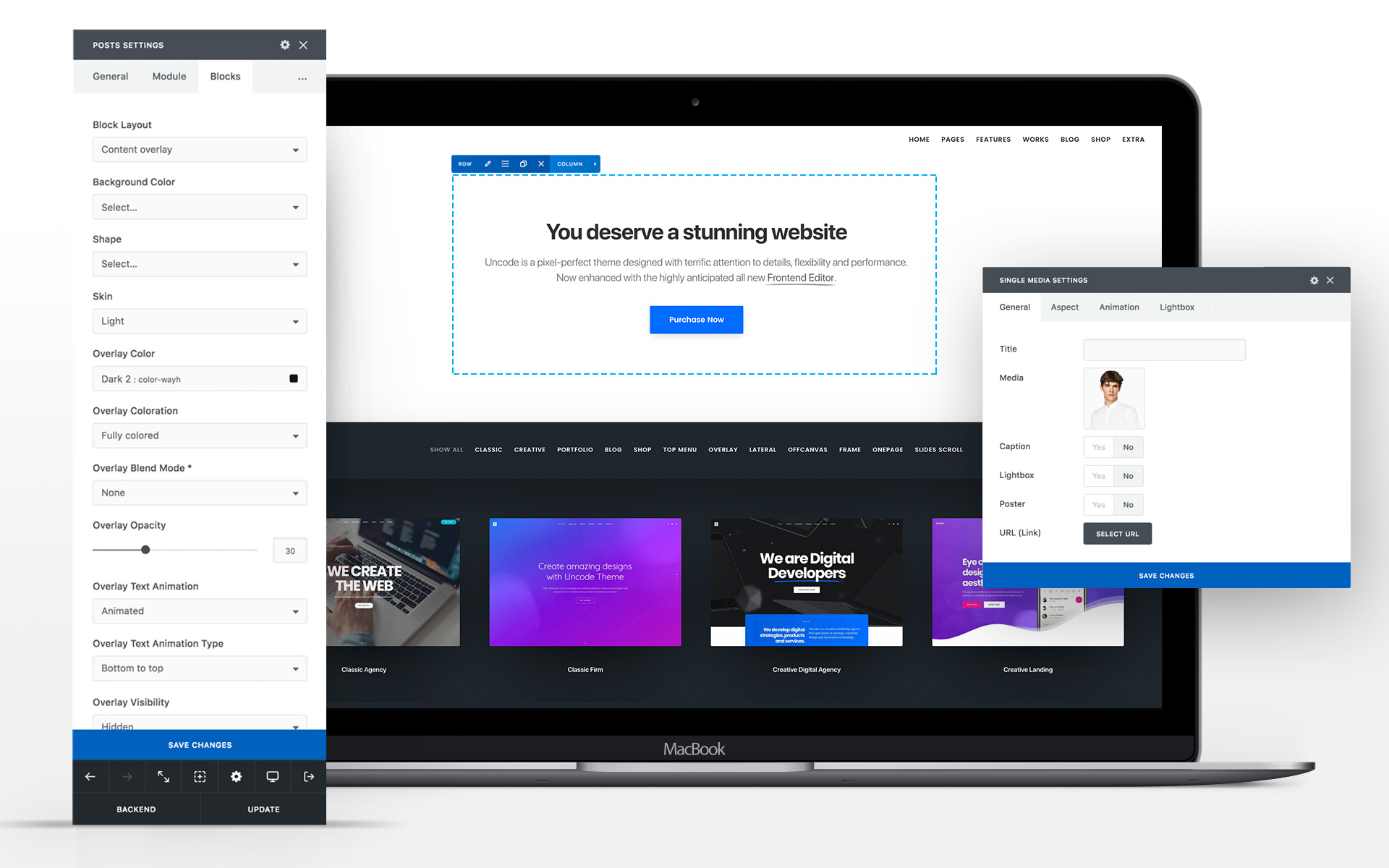 This section details the main elements and aspects of the unique Uncode Page Builder, discovering the different areas, icons, and tools we have included will enable you to build beautiful pages quickly.
The Uncode Page Builder
Uncode utilizes an enhanced version of the popular WPBakery Page Builder, for Frontend or Backend page creation. This enhanced version is simple to use, and it gives designers an incredible amount of flexibility. Unlike other themes that act as a kind of skin, Uncode's version has advanced functionalities not seen elsewhere: as you will discover, our approach takes your website-building capabilities to a new level.
Uncode is based on 33 powerful modules. Some of the larger modules feature more than 100 options than can be combined in every possible manner. Fewer modules mean greater flexibility: it's that simple. This compelling approach gives designers the ability to work with their settings.
In addition to enhancing WPBakery Page Builder's native functionalities, we've created a new unique interface that has been customized, organized, and perfectly adapted to Uncode. Uncode WPBakery Page Builder is the only version of WPBakery Page Builder you can use in Uncode Theme.
Frontend and Backend Editor
With the release of Uncode 2.2, Uncode now comes with two-page builder modes; the existing Backend Editor, and the new Frontend Editor. There are interface and workflow differences, but they both use the same Rows, Columns, Elements, controls, and options. The content that both builders generate is also identical, and so there is full compatibility between the two builders. Here are the main differences between the two:
Frontend Editor
The Frontend Editor is the new builder that many have been waiting for. With the Frontend Editor, you edit your content directly on the frontend of your website. You can see your layout as you build it, and any changes you make update immediately as you make them.
Backend Editor
The Backend Builder we all know and love hasn't changed. This is a backend schematic editor that allows you to build content quickly. You design and layout your pages as you wish, using the easy to use drag and drop editor, and then preview the result in a new window.