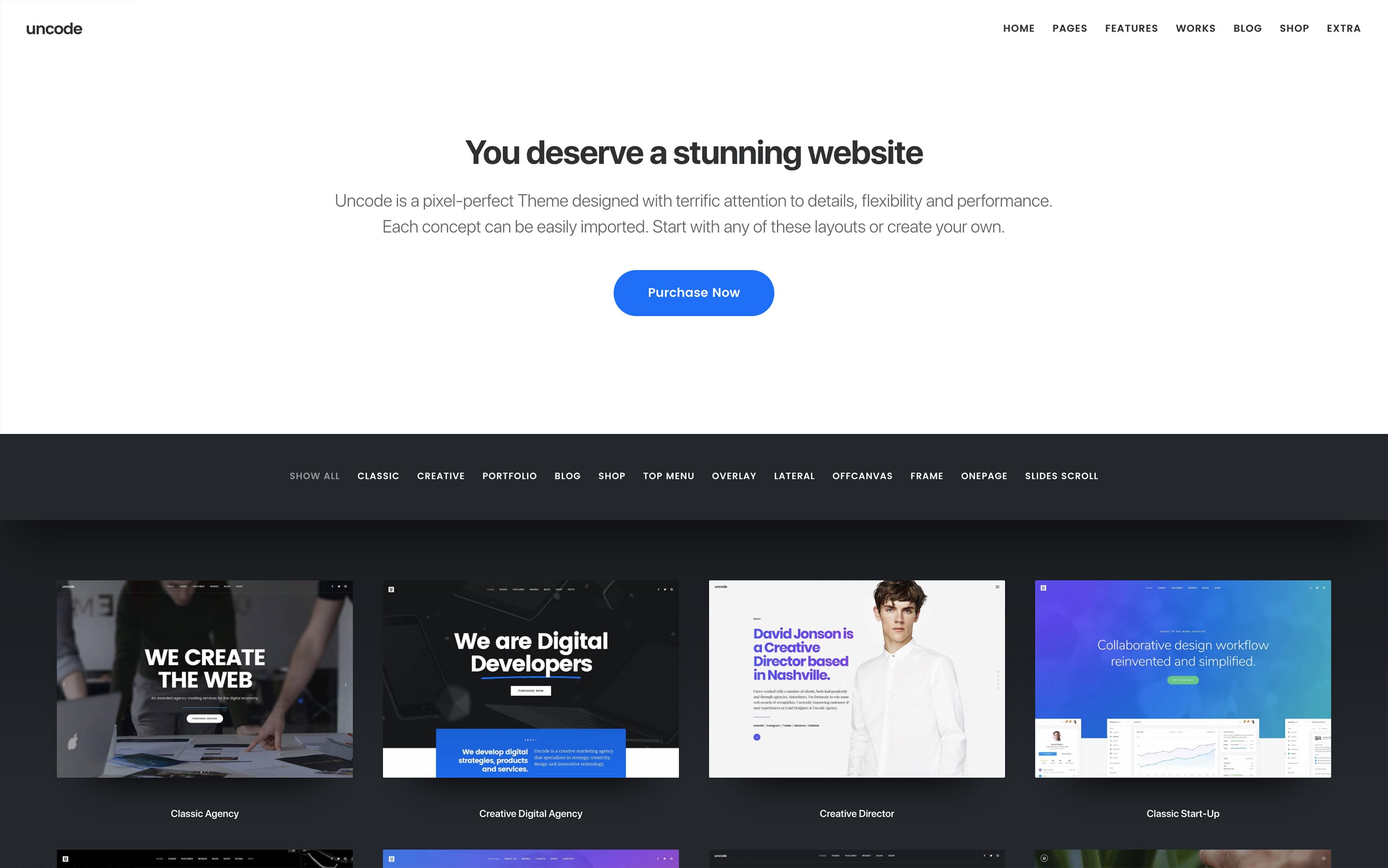 Use the documentation
Uncode as any kind of technical products has a documentation to follow. We therefore invite you to use as much as possible this site. If you buy a new phone or you buy a new camera you will probably use the documentation to discover the features and learn how to use it, trying to do the same thing with this theme. Uncode has many features and tons of options for virtually every needs, do not expect to be able to use the most of this tool without read documentation. Use the documentation and you will be able to create amazing professional websites.
Server Requirements
Most of issues users have are related to Server Requirements not respected. Issues you may encounter, such as demo content fails when importing, page not rendered correctly and other oddity are related to excessively low PHP configuration limit settings of the server. Please note though that many hosts will try to keep the limits low to save their resources. You are paying for it however, and you should expect to be getting your money's worth. These values are typically lower if you choose a low budget host. Before start check your System Status.
Demo Contents
Unlike most other themes, Uncode is not based on a variety of different demos. Instead, it consists of a single, integrated installation. Once you install the demo content, you will have an exact replica of the Uncode demo site with placeholder images. You can install the entire demo site, or if you choose you can install only those pages of interest to you. To make your workflow proceed as smoothly as possible, we suggest installing the entire demo, select the pages of interest, and remove the rest. By doing so, you can take modules from one page and use them in others. When you are finished, there is a utility you can use to remove the unused demo media with 1 click. You can also, as already mentioned, import single pages. This way, only the page you select will be imported along with other data like the Theme Options or the Widget. Remember, that if you should choose a page containing portfolio items, you will also need to import the portfolio posts.
Light and Dark skins
When using Uncode you will see frequent references to Light and Dark skins. Skins are settings that allow you to switch your text color in accordance with the background and design you have in place. A Light skin setting refers to dark text on a bright background (usually used in bright layout). A Dark skin setting on the other hand, features bright text on a dark background (usually used in dark layout). The skin system makes it much easier to create sections featuring contrast. The skin concept can also be applied to Uncode menu settings. 
Content Blocks
The Content Block is an Uncode feature not found in any other theme. We have created this unique Content Block feature to create and store selected Uncode WPBakery Page Builder content and replicate it across the site. The Content Block enables you to create sections of content that can be integrated into your pages. You can use the Content Block to create Header, Footer, Archive pages, or any part of any page you want to replicate across your site. The Uncode Content Block makes it possible to use Uncode WPBakery Page Builder in areas of a WP site that VC normally cannot operate in. 
Theme Options vs Page Options
Options are the backbone of Uncode. They give you full control over your website and allow you to customize the design without resorting to a single line of code. The two major groups of options you can set in Uncode are the Theme Options and the Page Options. The Theme Options are responsible for global settings over the entire website; unless otherwise specified in Page Options. This is an advanced cascade options system based on the WordPress page template hierarchy. The Page Options are located inside every page, post, portfolio or product single page. You can override Theme Options for single page diversification. You can read more about Page Options in the dedicated chapter.