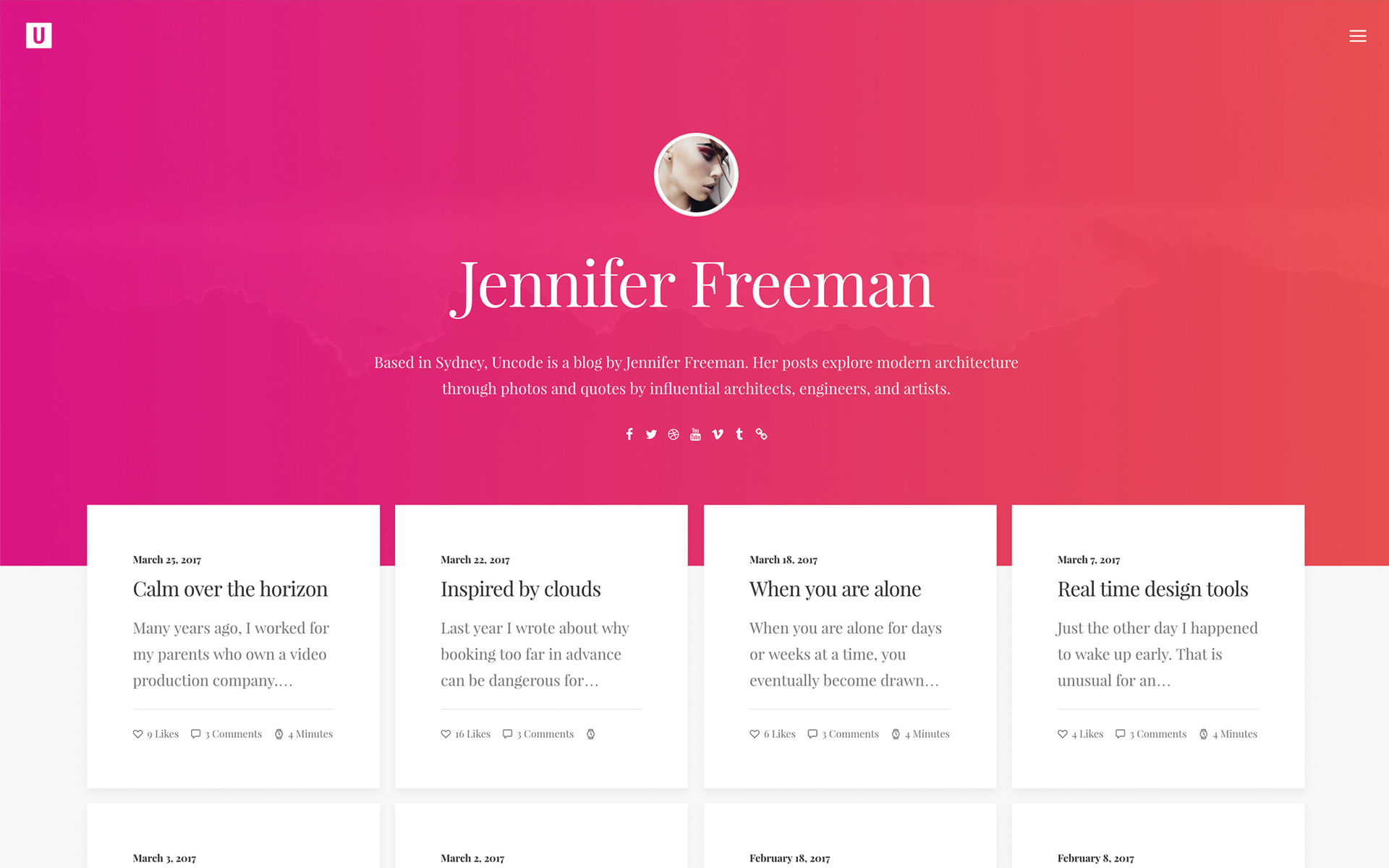 WordPress core offers some basic options for organizing author information on your site. For example, a user who clicks on a post author's name will be taken by default to a page that lists all published posts by that particular writer.
Uncode has improved on these initial features, giving you the tools you need to manage author information in a whole new way. These improvements include additions to the native author Profile pages and a unique Author Profile module for Uncode WPBakery Page Builder, as well as the ability to insert an author profile at the bottom of any blog post and create a custom author archives layout.
Author Profile Options
To find the profile page for a specific author on your site, visit your dashboard and navigate to Users → All Users. Then select the profile you wish to edit (if you want, you can change the user role in the drop-down menu to Author to make it easier to find what you're looking for).
Many of the options on the profile page are native to WordPress itself, such as the ability to set names, biographical information, and a profile picture. Two key features are unique to Uncode, however:
Under Contact Info, you'll find a number of fields where you can enter social media URLs to the author's accounts on Facebook, Twitter, Google+, and other popular sites.
At the bottom of the page, we've added a Featured Media field. Here you can add an image or other media file from your library, and it will be used as the background for your author profile page.
It's important to note that the Profile Picture on this page is managed through WordPress by Gravatar, which creates globally-recognized avatars and associates them with specific emails. You can find out more about this service on their website.
The Author Profile Module for Uncode WPBakery Page Builder
Uncode includes a handy Author Profile module you can add to any page or post using Uncode WPBakery Page Builder. This module offers over 20 options for customizing both the contents and layout of your author profile boxes.
You can set the Author Profile module to be either static or dynamic using the Select User drop-down menu in the Author Profile Settings. Choose a specific user to display their author information manually, or pick Default user and the module will automatically query the author of any page or post it's placed on.
Including the Author Profile Module in Blog Posts
You can use the Author Profile module to automatically include author information at the bottom of all your blog posts. Just follow these steps:
Create a new Content Block, and add an Author Profile module using the Uncode WPBakery Page Builder editor.
In the Author Profile Settings, make sure the Select User option is set to Default user, and the Display Avatar option is set to Use global recognized avatar (Gravatar). This will enable the module to automatically query posts for author information.
Configure the other layout and content settings for this module as you see fit, then save your new content block.
In the Uncode menu, navigate to Theme Options → Post → Content, and look for the option labeled After Content #1 (Ex: Author Profile). Choose the content block you just created from the drop-down menu, and save your changes.
That's it! Your new author profile box will appear at the bottom of all your blog posts, and will contain the correct information for each post even if your site has multiple authors.
Custom Author Archives Layouts
Finally, you can use Uncode's unique version of Uncode WPBakery Page Builder to create custom layouts for your author archives pages. Please refer to our tutorial on creating Archive Layouts for more information. If you would like to create a custom background in the header area of your archives page, follow the directions in our Archive Headers guide to set the Featured media and create an Dynamic Background image in the header row settings.
It's important to be aware that when the Author Profile module is used inside the content or header of an archives page, it is automatically set to query that page for the relevant author information.