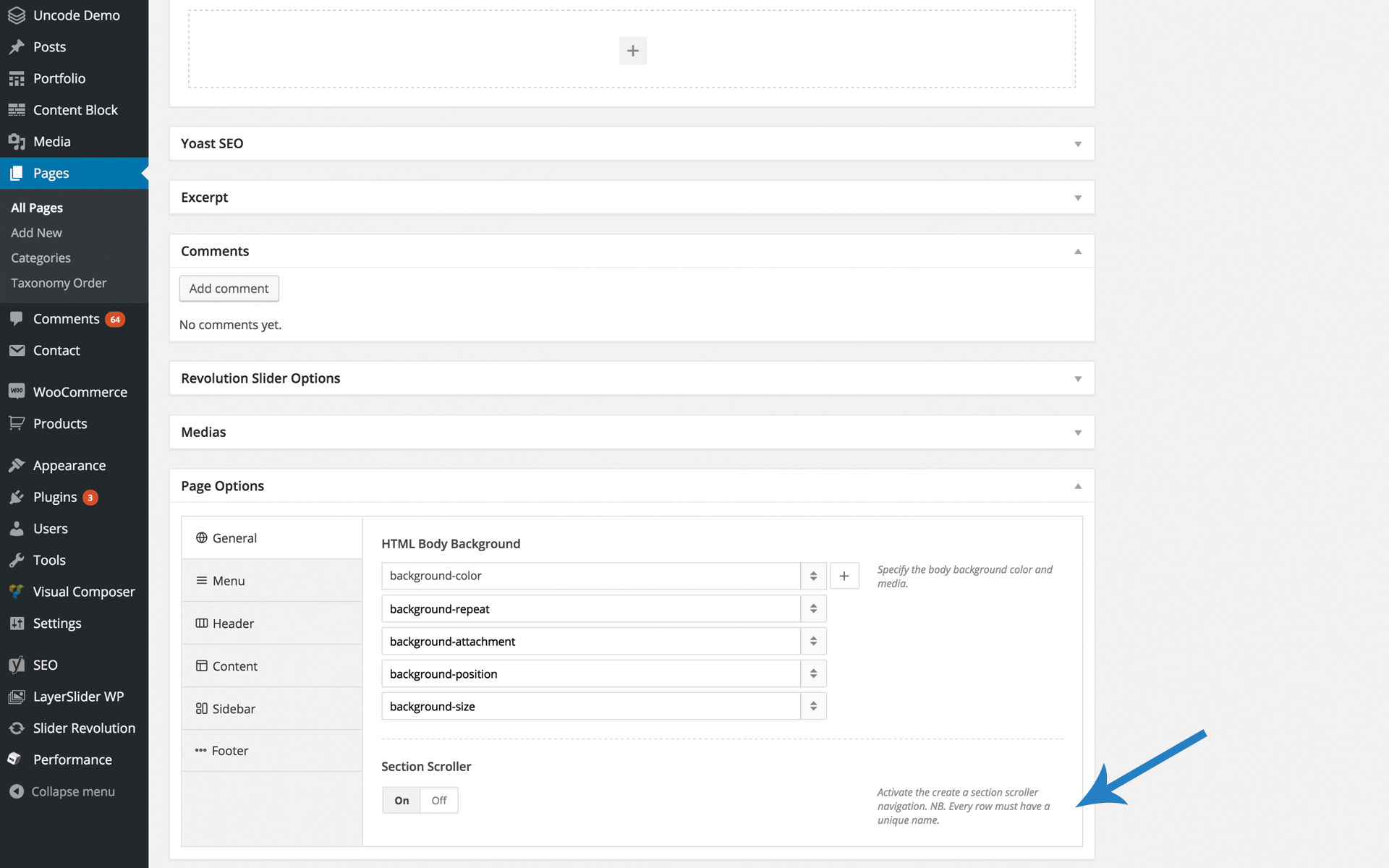 One Page websites are being adopted by some of the world's largest brands. These websites  provide users with a fast, clean and simple scroll navigation that is both attractive and effective. With Uncode you can create a One Page scroll website with just a few clicks, using either the Page Section Scroll option or the Main Menu Scroll option.
Rows naming (required)
Row naming is required. First, you must create a Visual Composer Row and open the settings. In the Extra tab, you need to apply a name for the row. Uncode automatically creates a unique Slug reference. Save the Row module. Be careful not to give more than one row the same name, screenshot.
Section Scroller (required)
To create a simple smooth Section Scroller (fixed-position navigations dots to the right of the viewport) simply activate this option from the Page Options> General. Save the menu. Once you hover the navigation dots, the name of your row (Slug) will be used as section caption text, screenshot.
Hide the Section Scroller: please note that the Section Scroller enables more advanced scrolling functionalities required for the Scrolling page. If you don't like the Section Scroller lateral menu you just need to paste this code in your Theme Options > CSS to hide this all over your site or inside the Page Options Custom CSS to hide only in a given page:
.onepage-pagination{
display: none !Important;
}
Main Menu Scroll
With Uncode you have the possibility to create fully functional single page scrolling navigation websites:
Single page a.k.a One Page: if your website is based on single page and you don't have any other pages that link to a scrolled section of the page, open the WordPress Appearance > Menus, create Custom Links and insert your Slug reference with the "#" symbol in the URL. Save the menu, screenshot.
Single page from an external page: if your website is based on multiple pages and you have other pages that link to a scrolled section of the page, open the WordPress Appearance > Menus, create Custom Links and insert your absolute URL with your Slug reference in the URL, so the final Url should be something like this: http://www.abc.com/#unique-name