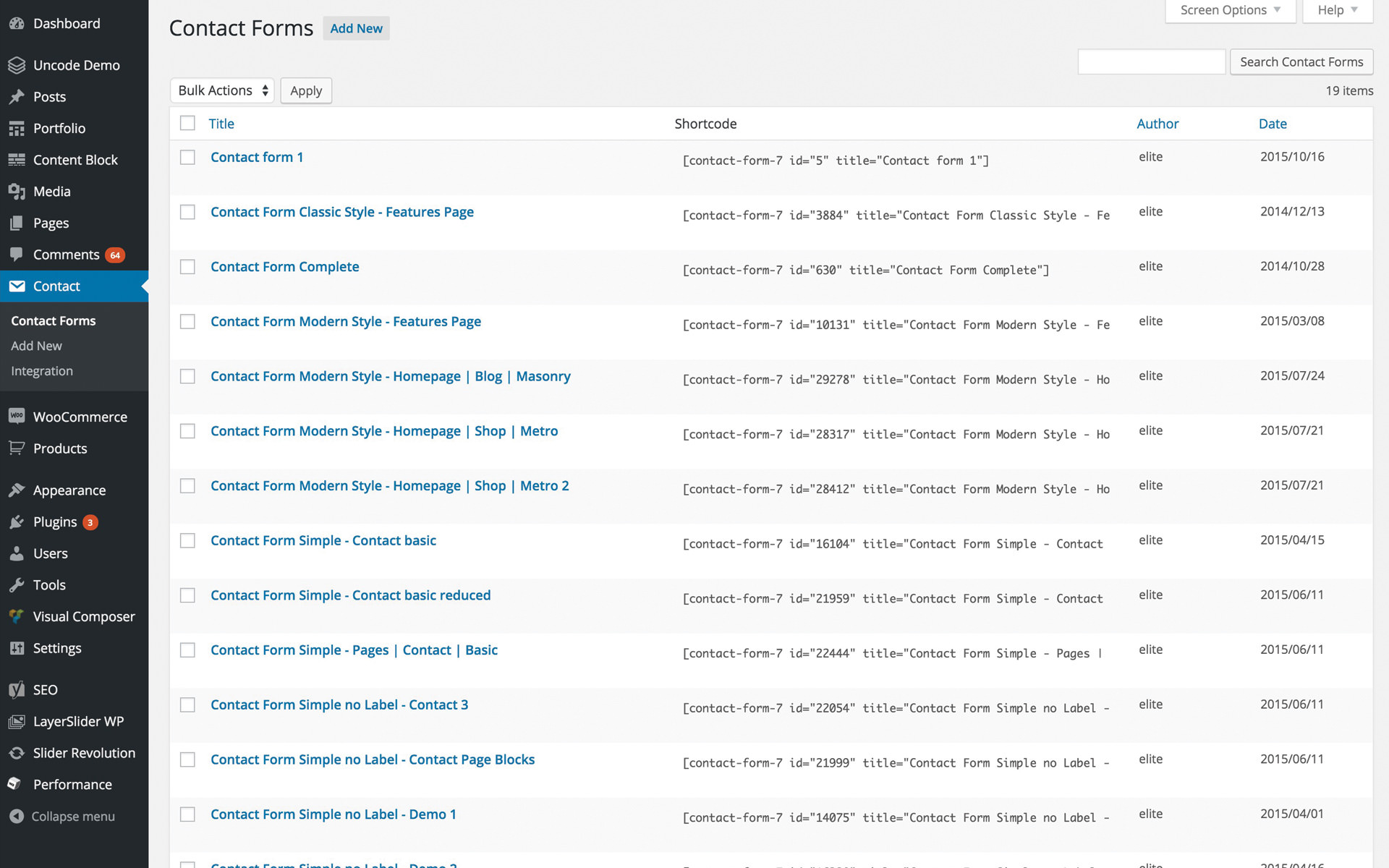 Contact Form 7
You can create a contact form with Uncode with the popular Contact Form 7 plugin. When you activate the Contact Form 7 plugin and you import Demo Contents, in the WordPress > Contact menu you can find all the forms available in our demo, screenshot.
Contact Form 7 enables you to manage multiple contact forms, plus you can easily customize forms and the mail contents with simple markups. Contact Form 7 supports Ajax-powered submitting, CAPTCHA, Akismet spam filtering, and more.
To implement this feature, you need to install the CF7 Plugin from Uncode → Install Plugins. Once you have installed the plugin, simply create a form using the CF7 plugins' options, and insert in your page with the dedicated Uncode WPBakery Page Builder Contact Form module. If you need to customise the button appearance you can modify the button class as you can see from this screenshot .
Gravity Forms
Gravity Forms for WordPress is a full featured contact form plugin that features a drag and drop interface, advanced notification routing, lead capture, conditional logic fields, multi-page forms, pricing calculations and the ability to create posts from external forms.
Contact forms and GDPR
The GDPR say that you must get user consent to process any data, and this is also valid for forms. Uncode uses the super popular Contact Form 7 free plugin. If you need to be compliant with GDPR requirements you need to implement a checkbox in your form as described in the dedicated Contact Forms documentation page and basically insert this code before the submit button shortcode.
[acceptance accept-this-1] Check here if you accept our terms (<a href="#">Privacy Policy</a>) [/acceptance]
Please note that Contact Form 7 doesn't store submitted messages anywhere (official documentation). Therefore, you may lose important messages forever if your mail server has issues or you make a mistake in mail configuration or you cannot save the user consent. Install a message storage plugin before this happens to you. Flamingo saves all messages through contact forms into the database. Flamingo is a free WordPress plugin created by the same author as Contact Form 7.
Alternatively, you can use Gravity Forms which has a native option to save each message and consent received. Gravity Forms is supported by Uncode but is not a free plugin we can include for free in our product.