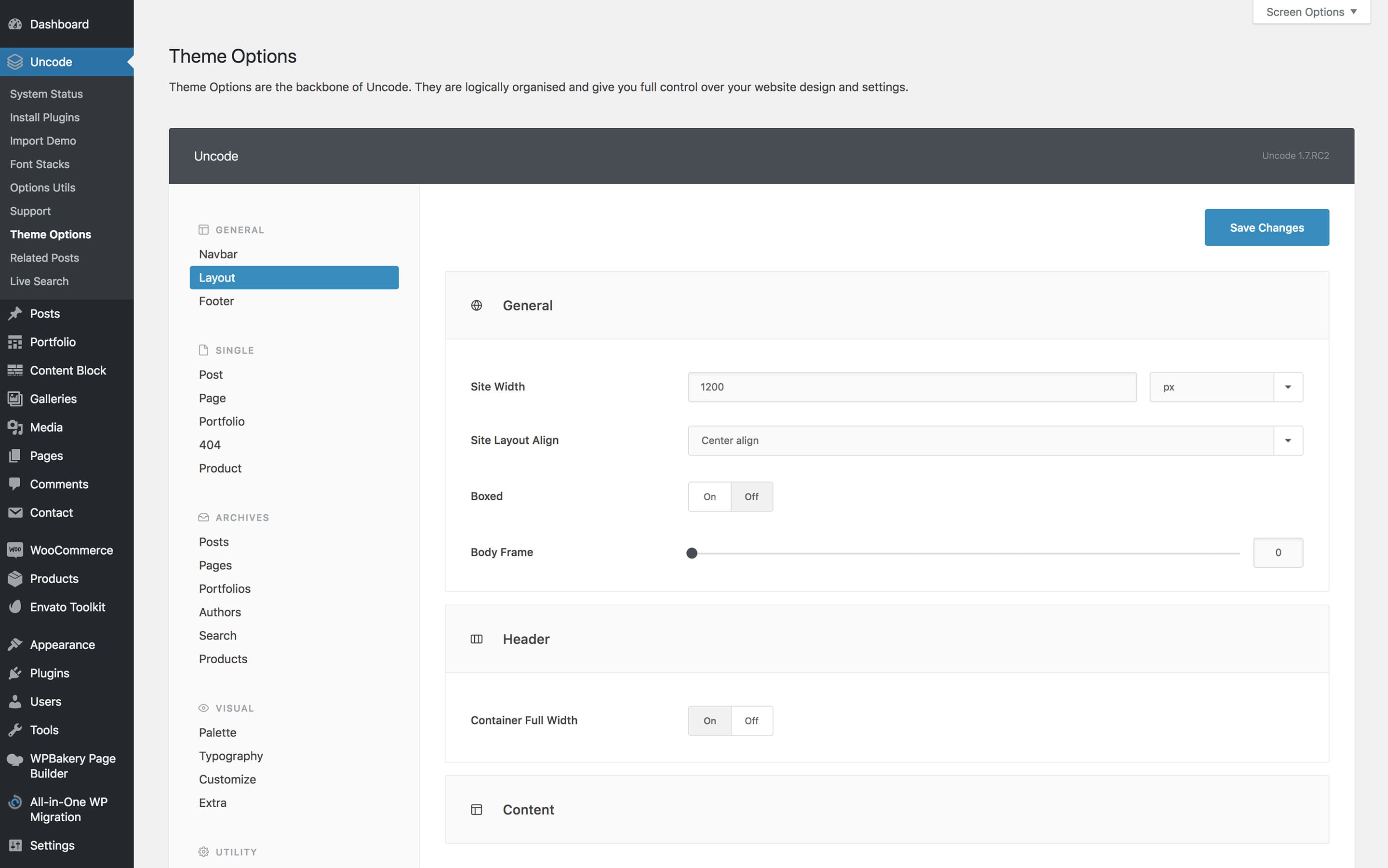 To give you full control over your website, and allow you to customize your design anywhere in the WordPress structure, Uncode has created a hierarchical system of theme options.
You can, in fact, define general Theme Options that can be overridden by these more specific options (depending by the post type):
Post: selects the single post option.
Page: selects the single page option.
Portfolio: selects the single portfolio option.
Posts: selects the posts index option (posts page defined in WordPress > Settings, post archives, post categories, post tags).
Portfolios: selects the portfolio index (portfolio archives, portfolio categories).
Search: selects the search page.
404: selects the 404 page.
General
In this section you will find these three settings:
Layout width: this setting defines the general width for the entire site, it can be specified in px or as a percentage of the viewport. If the Boxed options is in OFF position, the width refers to the inner width limiting the content. If you choose the ON position, it defines the width of the box containing the site.
Layout align: if the site width is to be less than 100% of the viewport with this you can use this option to position the content to the Center, Left, or Right position.
Boxed: turn this switch on if you want your content to be limited to the previously defined dimensions.
Body frame: activate and specify the thickness of the frame around the body.
Header
This defines the width for the Basic headers. Select the ON position if you want to stretch the headers container width to 100% of the viewport. Otherwise, the container width will be limited to the site width dimension.
Content
This defines the general width for the content when Uncode WPBakery Page Builder is not being used. When placed in the ON position, the content area's width will be 100% of the viewport. Otherwise, it will be limited to the site width dimension.