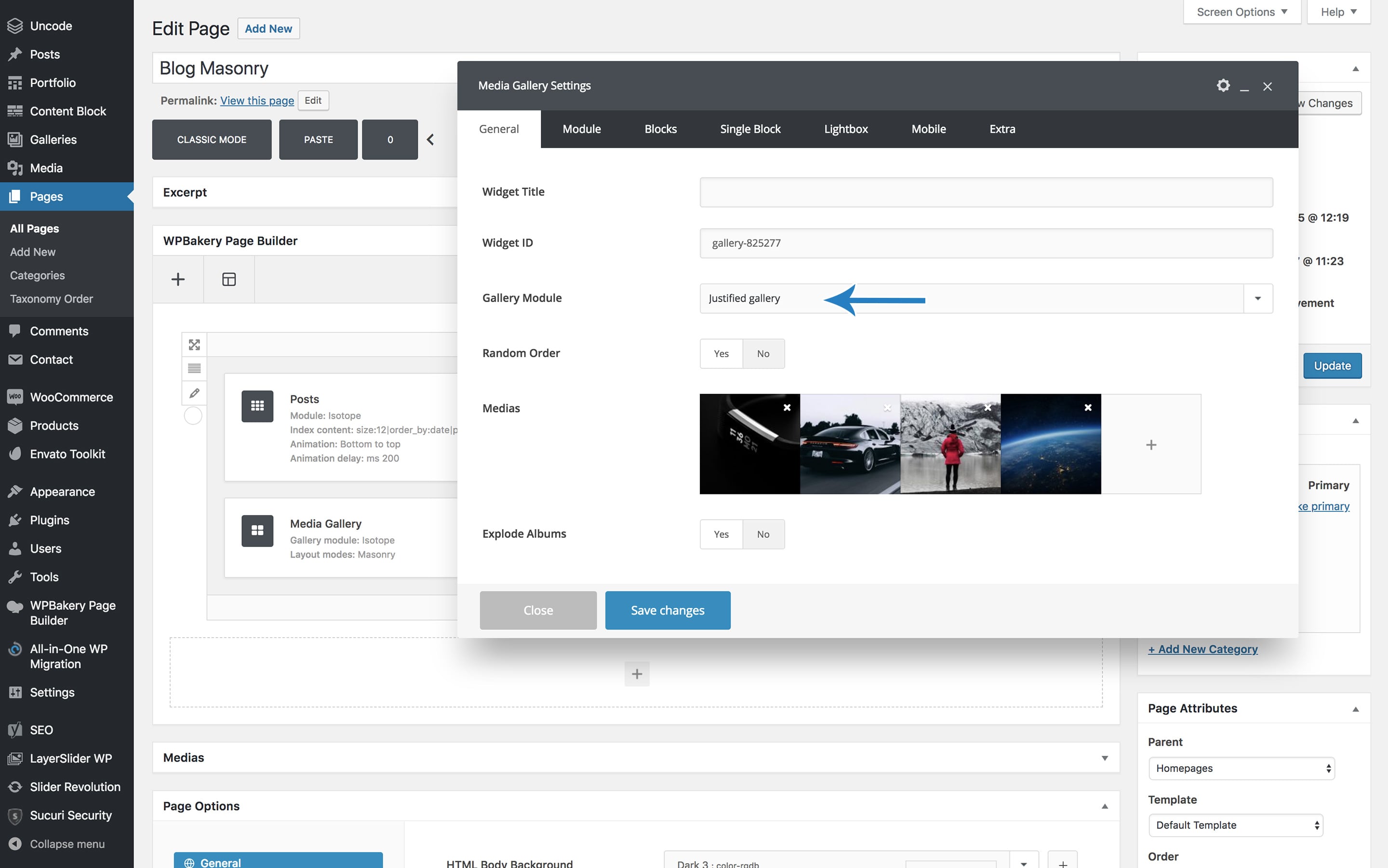 In Uncode, you can use the Posts module to display posts, portfolios, pages, or products in a grid format. You can also create a gallery of images, videos, and more using the Media Gallery module. Both modules give you various layout modes to choose from, so you can control the way your grid or gallery looks.
Masonry
The Masonry layout will take the posts or media files you select and automatically place them in optimal positions, based on the size of their thumbnails and the available vertical space on your page. This is similar to the way a mason will fit stones into a wall so that they align as seamlessly as possible. It's a popular and simple layout style, and is a good fit for images that have been uploaded in their original sizes without being optimized. You can activate this layout by navigating to the General tab in your Posts or Media Gallery module settings, and selecting Grid. Then switch over to the Module tab and choose Masonry under the Style drop-down menu.
Metro
The Metro layout works with complex calculations to optimize both the height and width of your post or media thumbnails. These dimensions are set so that the thumbnails will fit perfectly into whatever size grid you designate. You can use the Metro layout for any situation in which you need a tightly aligned grid, such as for a portfolio or a modern blog layout. To use this layout, navigate to the General tab in your Posts or Media Gallery module settings, and select Grid. After that, choose Metro under the Style drop-down menu of the Module tab.
Justify
Unlike the previous two layouts, this advanced version is only available for Media Galleries. The Justify layout is an excellent choice for professional photographers who want to create a modern image gallery that fluidly manages thumbnails of various sizes. This layout does the hard work for you – all you need to do is set a row height, and your media thumbnails will be automatically resized to create a gallery that is perfectly justified on every side. If you want to create a gallery using the Justify layout, select Justified gallery under the General tab in your Media Gallery Settings. You can then set your desired row height under the Module tab. NB. As the plugin creates an approximation to justify images, to avoid unexpected results, we suggest not to use values greater than 300, 350.